Uncovering The Legacy Of Topmost Manhole Cover: FRP Manhole Covers
The infrastructural realm of our society has seen an outstanding change when it comes to using concrete and composition materials for construction. FRP covers have emerged as a top solution for residential and institutional manhole covers. Breaking the monotonous use of traditional ductile iron manhole covers. 
FRP chamber covers have robust features and properties that not only promise durability. But, the load bearing and anti-corrosion high strength is another factor of why you must choose them for your residential or industrial purpose.
The thermoset material of FRP covers in Kolkata, makes it ideal for diverse climatic conditions. As one of the top manhole covers manufacturer, we will tell you all about the features of FRP manhole covers in this blog.
So, are you ready to delve into the features of FRP manhole covers so that you can take the utmost advantage of fiberglass-reinforced plastic covers?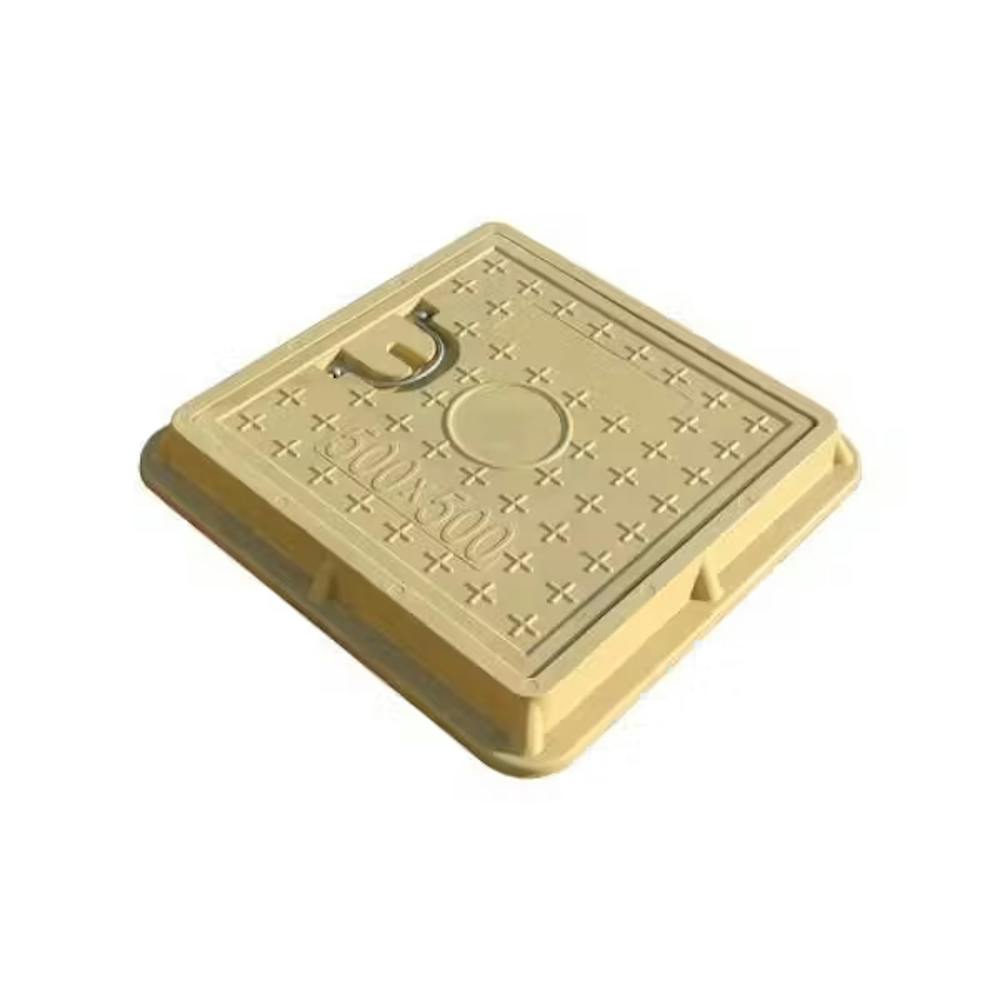 Recommended: Unveiling the Mystery: Why Manhole Covers Are Round (9 Reasons)
What Are The Supreme Features Of FRP Manhole Covers?
FRP manhole covers are the leading choice of many residential owners and structural builders among SFRC manhole cover and other concrete iron covers. Do you know why? The benefits and features of FRP manhole covers set them apart from the rest. 
So, what are you thinking of? Put on your reading glasses and discover the horde of features of FRP manhole covers here.
1) Durability Beyond Imagination
FRP manhole covers are an incredible choice as it is suitable to bear the heaviest weight. Despite being lightweight, this manhole cover offers you relief from buying new manhole covers now and then.
The composite material used in the fiberglass reinforcement plastic covers is way more advanced than what the traditional cast iron covers offer. Thus, benefiting you with an extended lifespan for sidewalks, driveways, and pedestrian walkways.
2) Light In Weight
The reinforced material of FRP is lightweight as it is made from polyester mixed with fiberglass reinforce materials. It is a great alternative to heavy and prone-to-rust manhole covers. Don't know how the lightweight feature can benefit you? Well, it provides ease of installation and transportation processes. 
Not just that, it also simplifies the task of laborers carrying heavy materials that can sometimes lead to severe workplace injuries.
3) Resistance To Rust
Unlike cast iron and steel manhole covers, FRP manhole covers are also a remarkable choice if you are looking for something that has anti-corrosion properties. The advanced technology used in making the FRP covers should be your optimum choice for coastal regions and wet zones. 
We promise that you will find this sewer coverage material as it was before even after getting the toughest use.
4) Versatile Appeal In Design
If you are looking for something that just does not fulfill the purpose of covering drain openings and sewer passage. But also, increases the visual appeal of your surroundings. Then again, FRP manhole covers are the right choice for you. FRP manhole covers come in a variety of shades, colors, and designs. That use can easily blend with the aesthetic exteriors of your place.
5) Protection From Electrocution
Manhole materials that are made of iron or steel often lead to serious electrical accidents due to electrocution. Metal materials are conductors of electricity which leads to the problems of such unpleasant incidents on roads.
Thus, if you need something that acts as a protector from electric shock then there is none like FRP manhole covers. One of the safest features that FRP provides is that it is a non-conductor of electricity. Therefore, FRP is truly beneficial for urban environments that are prone to electricity.
6) Safety From Slippage Issues
The frame and grating technique used in the making of FRP manhole covers. Are resistant to slippage issues. So, it is perfect for the construction of areas. Like swimming pools, water treatment sites, or areas that are prone to water clogging.
In other words, you can get anti-skid properties. Of FRP covers among other top features of FRP manhole covers.
7) Easy Installation Process
As you already know, it is the most lightweight manhole cover. Yet you cannot question its authenticity and durability. The lightweight feature allows. The FRP to get installed easily anywhere without any problem. Not only that, the handling of FRP manhole chamber covers requires no extra machinery. Thus, saving your budget on the installation process.
8) Excellent Service Life
Are you in search of a manhole cover that reduces your replacement cost? Due to resistance to extreme temperatures and strength to weight ratio. FRP covers provide long service throughout. Hence, not only reduces replacement costs. But also, exhibits the benefits of staying intact. Under rough climates and environmental concerns.
9) UV Resilience
You must have dealt with manhole covers that lose their charm, integrity, and structural relevance. Under scorching sun or sunny weather due to extreme UV rays. Then, choose FRP manhole covers as FRP (Fiber Reinforced Polymer or Plastic) offers protection against harsh UV rays. 
It stays durable for the longest time. As the gratings do not disintegrate. Even slightly even after getting exposed to extreme sunlight. That is why, the FRP manhole is the top solution for coastal regionals and maritime climates.
10) Customization Availability
Customization is a tough question when talking about traditional concrete manhole covers. But among the robust features of FRP manhole covers. It is available in any other colour specified by client. This means, you can not only specify your color requirements. But, also can also specify the shape and size customization according to your needs.
So, isn't it enough for a manhole cover like FRP to top the list?
Read More: Manhole Cover Uses And Applications By Om Concrete Products
Conclusion
The array of features of FRP manhole covers makes them an innovative choice. For sewer drainage and access points of infrastructural properties. The outstanding combination of durability, strength, resilience, and lightweight. Makes FRP the ultimate solution. For being the best manhole cover available across India.
You can check more about FRP manhole covers on our website of Om Concrete Products.